Be Inspired
We share common values and objectives and form the core team of a strong and healthy organization.
Dou you share our passion and would you like to obtain the best results? Would you also like to keep on developing yourself and improve your skills? Do you have an innovative and pragmatic approach? Then you are in the right place.

Mr. Alirio Polsbroek – Head Editor Times of Suriname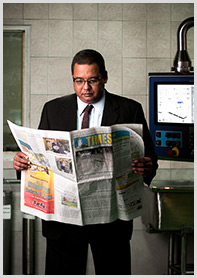 "I see Times of Suriname as an independent newspaper, unbiased to any social stream."
Our news focuses on presenting the readers
with what they prefer to read.
We neither want to be obtrusive nor give our readers that which we deem important or amusing. The mode of operation for putting together a successful newspaper as ours, requires research not just parroting. This additional work results in our ever expanding circulation.
Being the biggest newspaper is one thing, keeping that position is another. We have to keep improving our product, our staff and ourselves. The reader and the team must 'take the lead.' The period where the newspaper was a reflection of the editor in chief is over. The biggest lesson that an editor in chief learns nowadays is humbleness."
Company: Rudisa Broadcasting, Communications & Publications N.V.